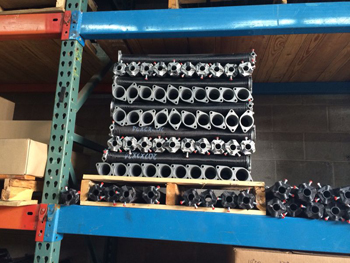 The Clopay torsion spring system resembles a lot to the standard torsion springs but it has plenty of differences as well. As a matter of fact, a standard torsion spring won't be good for a Clopay system since the Clopay torsion springs have gapped coils and are installed in a different way. If standard torsion springs are stretched to be gapped in order to fit to this door, the winding cone will be pulled out of the winder. At one end Clopay torsion springs have a winder cone, which is attached to the winder which is found close to the end bracket. That's why Clopay torsion springs are found at the side of the door. At the other end, there is a stationary cone which is though called winding cone.
Choose Clopay EZ-set For Easy Installation
Although winding cones are used to wind the spring before securing it to the shaft in standard torsion spring systems, in the case of a Clopay torsion spring system it is quite the opposite. This cone is used to secure the torsion spring before it is wound. Clopay torsion springs are often called EZ-set springs because they are installed easier than standard torsion springs. They don't need special winding bars but a drill. Their special characteristic is that their coils are gapped and for this reason they also have a spacer in the spring and on the shaft to ensure the spring coils are gapped alright and they don't bind. Single car garage doors usually need one torsion spring and double car ones would also take two springs. There is an L and R indication on every Clopay torsion spring so that people would know whether the spring goes on the right or left door side since they are always installed at the side parts.